Class types
Foundation Courses
Our ten week foundation courses are held once per week for one hour. Our syllabus is suitable to all those new to, or, rediscovering yoga. Over ten weeks students are taught foundation principles such as connecting body and breath, alignment in poses and some basic yogic philosophy. Many students repeat at this level until they feel comfortable in continuing at the developing level. Foundation courses are suitable for absolutely every one regardless of age shape or size. Students missing a maximum of two classes in this time slot are able to do make ups in other time slots on request and within the same term.
Foundation courses are held in four different times slots. Please choose the time that is most suitable for you. Times: Monday 7.30pm; Wednesday 5.45pm; Thursday 7.30pm; Saturday 10.00am
Developing Courses
Our developing classes are for those students who have completed one or more foundation courses and are looking to evolve their yoga practice beyond the initial level. These classes run over an hour and a half. At this level inversions such as head stand are taught and explored. A deeper level of technical instruction is delivered and the student has gained a greater understanding of the philosophy and its practical application to the study of asana (yoga poses).
The NPYR holds the developing course twice per week, please choose the class that suits you. The times are Monday 5.45pm and Wednesday 7.00pm. The cost is $150 for the ten week term.
Vinyasa Classes
Combining the alignment of Iyengar yoga with the flow of Vinyasa, North Perth Yoga Room have created a new early morning class suitable for all kinds of Yoga students. A dynamic flowing practice based on Surya Namasker (Salutations to the Sun), Iyengar Vinyasa is a well paced class of linked poses that will stretch your limbs and focus your mind. This new invigorating 1hr class is an excellent way to start the day.
Students can take classes casually @ $25 per class or purchase ten classes for $160. To find out more information about Iyengar Vinyasa please contact the North Perth Yoga Room.
Led Practice
Led practice is a group practice session led by a teacher trainee or established student. Students work at their own pace in this supportive setting.
You can attend this class on a casual basis, using a 10 class card or with an unlimited term pass.
Ten week established program with Ross Parris
Ten week established/ advanced practitioner program with Ross Parris. Ross is a certificated Iyengar teacher with some twenty years experience. This program, taken over ten weeks on a Thursday evening, is ideal for students wishing to take their practice to the next level. Up to two make up classes may be taken during the term for weeks missed. This is a great opportunity to take classes with NPYR's most senior teacher. The cost is $150 for the ten week term.
Other Classes
The North Perth Yoga Room runs Established Classes for those who have been practicing in the Iyengar tradition for 3 or more years, as well as open classes throughout the week which anyone can join. Please see our NPYR Timetable for details. Casual classes are offered at a rate of $15 concession and $25 full price. You can also purchase 5 classes @$90 or a 10 class pass @$160. We also take great care to offer informative, engaging and fun workshops throughout the year focusing on subjects such as women's health, men's health, the ancient science of Ayurveda, intensive yoga practice and philosophy. To see what workshops we have coming up please look to NPYR Workshops.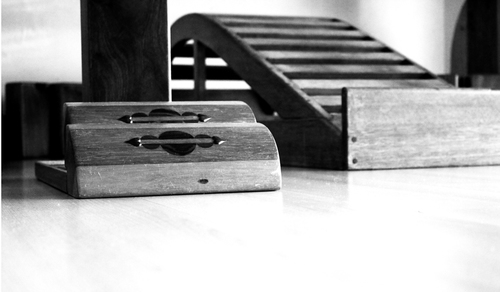 Community class
Community classes are led by senior students and trainees and are free to attend
General holiday class
General holiday class open to all to attend